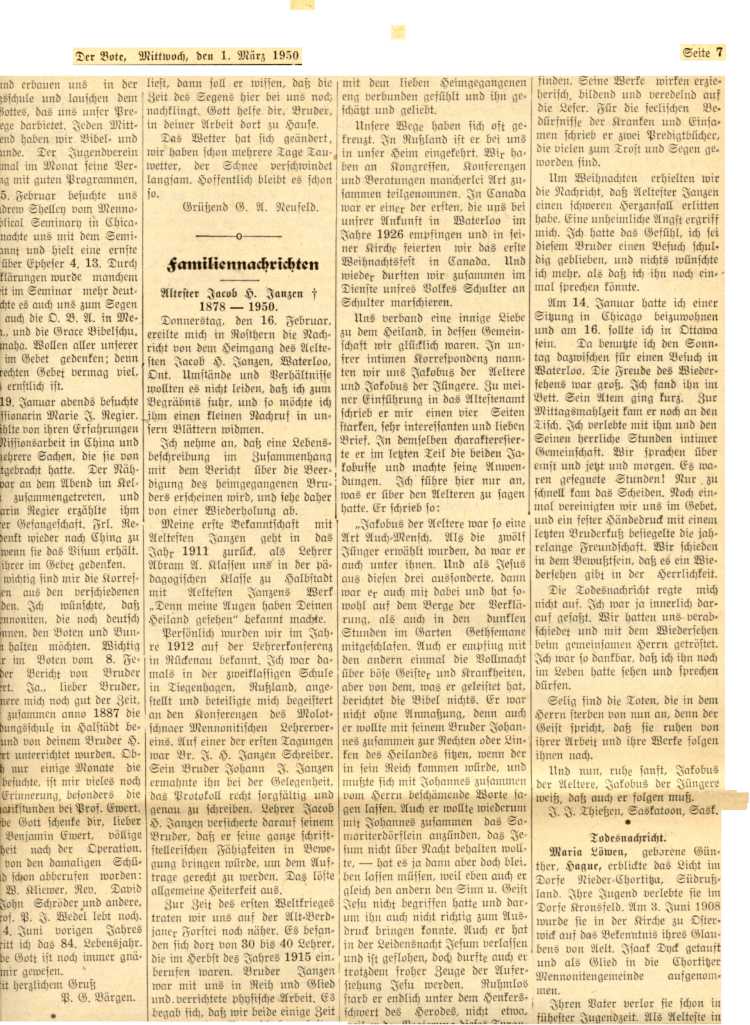 Jacob H. Janzen obituary in Der Bote March 1, 1950. Written by J.J. Thiessen.
English translation:
BISHOP JACOB H JANZEN
~
1878 --1950
On Thursday, February 16, while in Rosthern, I received the news of the home-going of Bishop Jacob H Janzen, Waterloo, Ont. Circumstances at the time did not allow me to travel to the funeral and so I would like to submit a small tribute for our papers.
I assume that a story of his life, together with a report of the funeral of the deceased brother will appear shortly and thus I will refrain from that.
My earliest acquaintance with Bishop Janzen goes back to 1911 when our Teacher Abram A Klassen in the Pedagogical Classes at Halbstadt introduced us to Bishop Janzen' s "Meine Augen haben Deinen Heiland gesehen" ["Mine eyes have seen thy salvation']
We became personally acquainted at the Teachers Conference in Rueckenau in 1912 when I was a teacher in the two-room school at Tiegenhagen, Russia. I participated eagerly in the conferences of the Molotschna Mennonite Teachers Association. At one of the first meetings, Br J H Janzen served as secretary .His brother John J Janzen admonished him at the time to write the Minutes very carefully and accurately. Teacher J H Janzen assured him that he would put into action his total literary skills in order to do justice to the task at hand. Laughter rippled through the participating group in attendance.
During World War I we met more intimately in the Alt-Berdjansk Forestry Camp where about 30 or 40 teachers had been called up to work in 1915. Brother Janzen was with us and like the rest of us was assigned to physical work. For a time he and I were assigned to work together in the tree nursery. The work involved a lot of digging. I was young and slim; he was older and somewhat corpulent and found bending down quite difficult. I made a practical proposal which he accepted. He was to carry on the conversation and I would try to do the digging for both of us. And thus we discussed theology, literature, art, philosophy, etc., he making the presentations. In those days I realized how well-read he was and how well he had digested and remembered the material he had read.
Mr Boese, the Starschij (Commandant) of the Camp soon realized that he could use this man's strengths and time in more practical ways. He assigned him to give presentations on certain evenings for the men in the Camp. The presentations were very interesting and educational. Many a heart was moved by them and gripped by the love of God. One evening he spoke about the terrible power of sin and about the grace found in Jesus Christ. His words found ready soil in my heart. After the meeting I felt compelled to spend time alone in the quiet of the forest.. A heavy restlessness had overcome me lately and now in child-like faith I prayed, "Sweet peace, come, O come into my breast!" And it came. Since that time I have felt myself closely bound to that now deceased brother and have appreciated and loved him.
Our paths since then, have often crossed. In Russia he visited us in our home. We have participated together in various conferences, congresses and meetings. In Canada he was one of the first ones to receive us when we arrived in Waterloo in 1926. In his church we celebrated our first Christmas in Canada. And thus we were again privileged to march shoulder to shoulder on behalf of our people.
We were bound together by an intimate love of our Savior in whose fellowship we rejoiced. In our personal correspondence we called each other, Jacob the Older and Jacob the Younger On the occasion of my ordination as Bishop, he wrote me a 4-page very interesting and very loving letter. In the last part of the letter, he characterized those two Jacobs and made applications. Below is how he characterized the older Jacob:
Jacob was a kind of "Auch-Mensch" [Also-Person]. When the 12 disciples were chosen he was also among them. And when Jesus chose 3 of them, Jacob was also one of them and was present on the Mount of Transfiguration, as well as in the Garden of Gethsemane, where he was also one of those who slept. He was among those who were empowered to cast out evil spirits and heal the sick, but the Bible reports nothing about this. He was not without presumption though, when he and his brother made their request to sit on the right hand and the left hand of Jesus in the coming Kingdom. They both had to be shamed by Jesus for this. He also, together with John, was prepared to set fire to the Samaritan village that would not keep Jesus overnight. ..but had to concede that he and the others had simply not grasped Jesus' mind and spirit and had failed to express it correctly. He was also one of those who deserted Jesus in the night of His
passion and fled. However, he was allowed to become a joyous witness of the
resurrection of Jesus. Finally he died, unhonored, by the sword of Herod, not because he was a particular threat to the government as a witness of Jesus, but because Herod wanted to find out how the Jewish enemies of Christ would react. They appreciated it and Herod was tempted to continue his killing."
"That's the kind of "Auch-Mensch' I am in the good sense of the word and in Jacob the Older my story is mirrored. I rejoice that that man also was allowed to approach the most wonderful One, and that he also could die honoring God, dying peacefully, even though his martyr's death was not exceptional. I also hope at some time to leave this life for a better one, to leave this world and go into the arms of Jesus"
Bishop Jacob H Janzen was humble, even though he may be counted among the great of our people. He worked tirelessly for his Lord and for our people, as a teacher in the school, a bishop in the church, as a popular speaker and writer. He had a discerning eye for the shining as well as the shadowy areas of our people. He had the gift of praising, but, he also chastised. In his writings he showed us people of our own flesh and blood in their happiness, in their suffering, in their seeking and finding the Lord. His writings nurture, they are educational, and they purify the readers. For the spiritual needs of the sick and the lonely he wrote two books of sermons which comforted and blessed many.
At Christmas time we received the news that Bishop Janzen had suffered a severe heart attack. I was caught up in a special fear at that news. I had the feeling that I still owed this brother a visit and I wished nothing more than to be able to speak with him once more.
I needed to attend a meeting in Chicago on January 14 and another one in Ottawa on the 16th .I used the Sunday between those two days to visit in Waterloo. The joy of our reunion was great. He was in bed and was short of breath. He did however come to the table for the noon meal. I experienced wonderfully intimate fellowship with him and his family. We talked about the past and the present and tomorrow. The time for parting came much too soon. We joined in prayer once more, clasped hands and sealed our years of friendship with a brotherly kiss. We parted with the assurance of a reunion in glory.
I was not surprised by the news of his death, having been inwardly prepared for it. We had said goodbye and had comforted one another with a reunion in the presence of our Lord. I was so grateful to have seen him and been able to speak with him once more in this life.
"Blessed are the dead who die in the Lord from now on. 'Yes' syas the Spirit, "they will rest from their labor, for their deeds will follow them. "'
And now, rest in peace, Jacob the Older, for Jacob the Younger knows that he must also follow.
J J Thiessen
Saskatoon, Sask.
[Der Bote, March 1, 1950]