Page 1 | Page 2 | Page 3 | Back to Work Page
COs planted trees in many of the work camps. The planting routines varied from camp to camp based on climate, terrain, and location. In most camps it was a seasonal activity. Bill Kerby worked in Bowser, BC. The amount of trees a CO could plant every day depended on the type of terrain. It was easier to plant on flat ground than on a mountainside.
"As fall approached our occupation was changed to tree planting. We were each given fifteen hundred trees a day to plant. In a long line, four feet apart, we moved over the rough terrain with grub hoe in hand. With each large step the hoe would descend, the ground would open, we planted a tree, tamped the ground in stride and repeated the action throughout the day. In the various camps we planted seven millionstrees that fall. After forty-five years they should be big enough to harvest." [ASM, 281-283]
Besides fall, the other prime planting season was late-winter and spring. Peter Martens worked at Q7, a camp on Vancouver Island.
"In February and March, we planted trees: mostly Douglas fir and cedar. During this time our camp of 35 men was doubled to 70 men from other CO camps. A tree-planting crew consisted of 15 men, six feet [1.8 m] apart, planting a tree every six feet if we could find soil. If it was too rocky or a big stump was in the way, we planted wherever we found soil. The seedling trees were very small, 100 in a bundle, carried in a canvas bag with wet moss at the bottom of the bag. If the terrain was very steep, we planted between 700 and 800 per man per day, but very often we planted 1000 trees. The best time to plant was when it was raining, so no matter how hard it rained, we never stopped. Often we came to camp soaking wet. You can imagine the smell when eight of us dried our clothes in the bunkhouse. The BCFS gave each CO a pair of good logging boots and one set of rainproof "bone dries," consisting of a jacket and pants." [ASP, 129]
Jacob Loeppky gives another name for these clothes.
"The BC Forestry supplied us with waterproof clothing, pants, jacket, and hat. We called it tin clothing, it had oil cloth between two layers of canvas. Shoes we had to buy ourselves. They were half price at twelve dollars and came in either hubnails or spikes, and they were waterproof."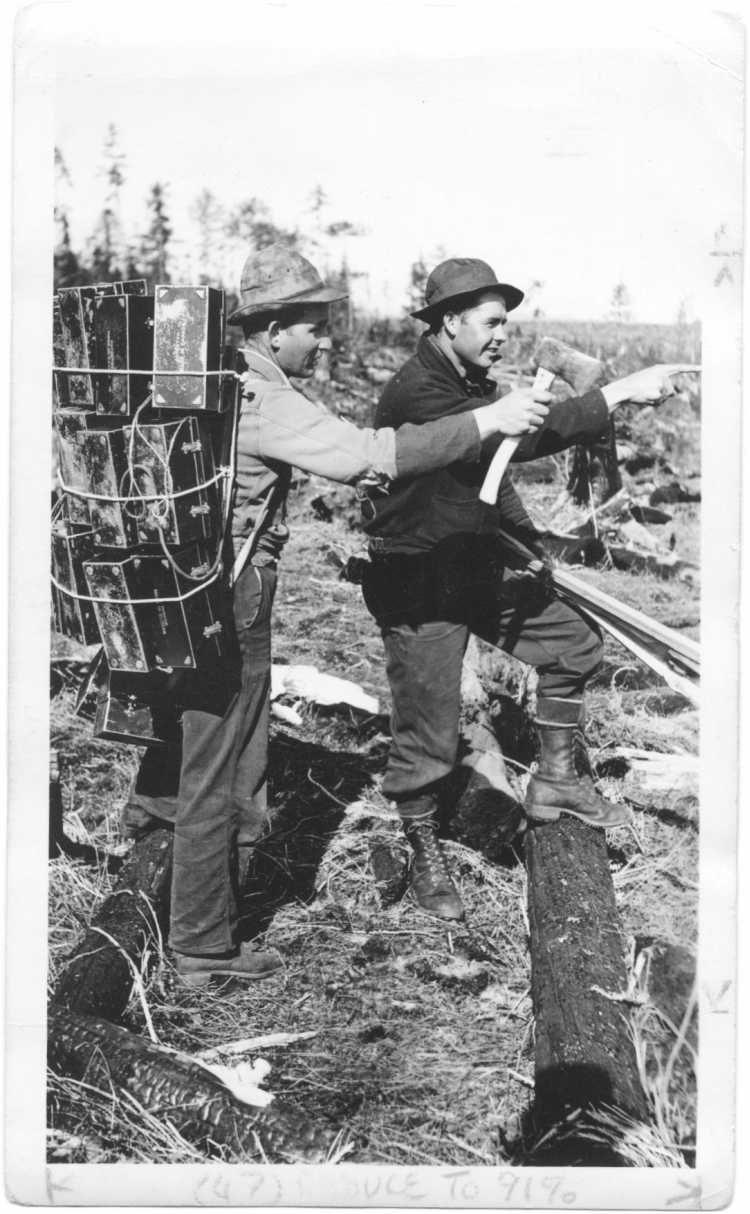 Helmut Neufeld packing lunch for tree planters on Vancouver Island. Peter Wolfe is giving directions.
"We were planting trees, March – November being the rainy season. We were fifteen men to one crew one sub-foreman and one staker. We planted a tree every six feet [1.8 m] or two steps. We covered ninety feet in one swath. We used a mattock, a one place pick. Depending on the terrain one man could plant 500 to 700 trees in a day. They expected 50% survival. Ours was 75% and considered very heavy growth. Our staker was also packing trees, not to mention lunch kits. He had 4500 trees on his backpack and he packed 17 lunches. The foreman told him where we would be for lunch." [ASM, 224-225]
Page 1 | Page 2 | Page 3 | Back to Work Page