Page 1 | Page 2 | Page 3 | Back to Work Page
The foreman was also in charge of making sure all the trees were planted properly. Peter A. Unger kept an eye out for planters who didn't follow the rules.
"Occasionally some planters would put several seedlings in one hole. It did happen that some even put in a whole bundle. It was my responsibility to watch for such. When this was done with deliberate intent to get rid of trees as quickly as possible it was an unpleasant task to confront the particular planter. At times this was done with the full awareness that I saw these actions and my admonitions were accepted with a bit of humour that helped break the monotony of the task." [ASM, 210-218]
One last story from the tree planters. It turns out, according to Jake Friesen, that the "waterproof" "bone dries" worn by the COs sometimes did not live up to their names.
"Tree planting was done rain or shine. The BC government supplied us with a hat, jacket, and pants at our own expense. The clothing was supposed to be rain proof, but in a steady downpour we got wet nevertheless." [ASM, 290-292]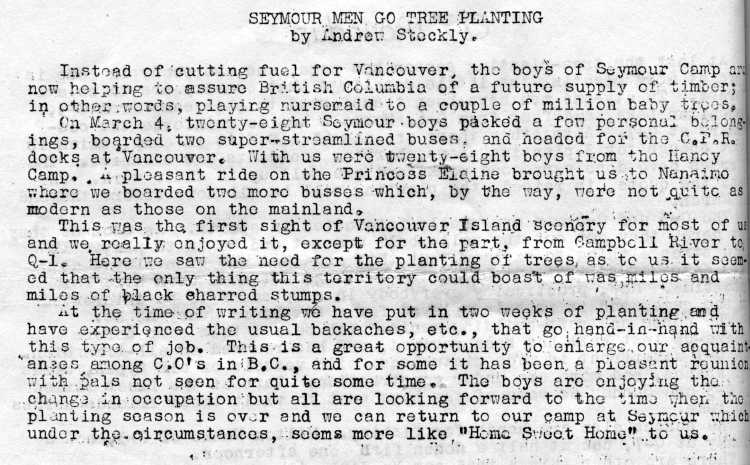 Page 1 | Page 2 | Page 3 | Back to Work Page